Interesting and profitable morning on Monday 27 June.
At the School of Engineering and Architecture of the University of Bologna, took place the welcome event for the President of SAE International, Mr. Cuneyt L. Oge.
During the event, which saw the presence of important guests and representatives, the Team had the opportunity to show the MW4-15, the new "at home" UniBo Motorsport, with which the next races scheduled in calendar.
Following the arrival of Mr. Cuneyt and the other guests, the SAENA President, Cesare Pianese, the Vice-rector for didactics, Enrico Sangiorgi, and the President of the School of Engineering and Architecture, Ezio Mesini, the long-awaited demonstration took place.
The Team was able to demonstrate, to its illustrious spectators, the excellent qualities of the car in terms of acceleration, engine and maneuverability.
At the end of this demonstration there was a group photo session during which congratulations were given for the work done.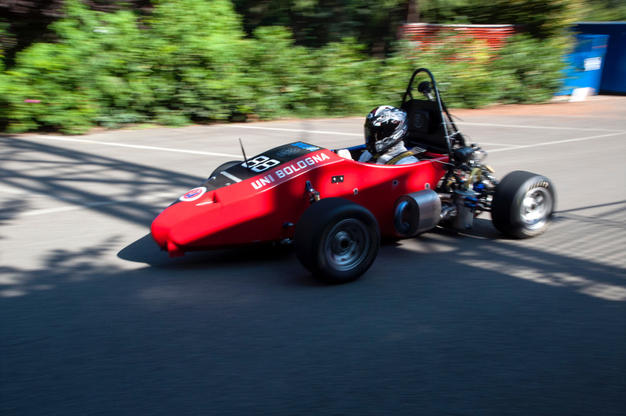 Following the practical demonstration, which took place in the square adjacent to the Faculty of Engineering, the event continued inside the Aula Magna; all the guests took part in the conference, introduced by the Faculty Advisor, Prof. Nicolò Cavina.
Various topics have been discussed, in particular, Formula SAE and the opportunities that this project offers: technology, automotive development, the importance of learning and, at the same time, fun that should not be lacking in this kind of experience were also discussed.
Giovanni Zini, the Team Leader, and Prof. Cavina concluded the meeting with a presentation of the UniBo Motorsport reality, briefly describing the most characteristic aspects and emphasizing the importance of the project for technological development and professional training.
So all that remains for the team is to concentrate on future programs: firstly the upcoming test sessions and, subsequently, the three competitions in which it will take part: in Italy, in Czech Republic and in Hungary.